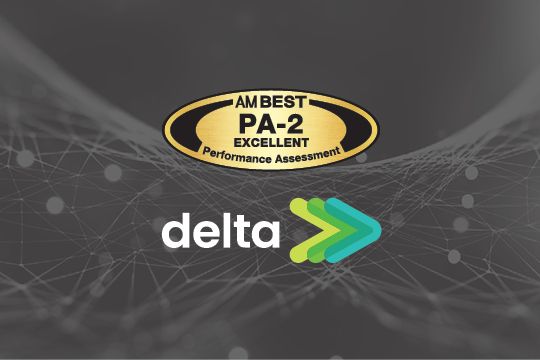 AM Best 'Excellent' Performance Assessment – 2 years running!
Excellent for us, means Excellent for you!
We are delighted to share the incredible news, for the second consecutive year, we have received a 'PA-2 Excellent' performance assessment from AM Best, the New Jersey-based global credit rating agency that specialises in insurance.
Managing General Agents like Delta aren't normally able to undergo such a review process, and AM Best is the first rating agency to review companies like ours. In 2022 Delta was the first underwriting agency business in the Asia Pacific region to be assessed. The assessment covers our operations across Asia Pacific, based on an assessment of our New Zealand and Singapore businesses.
We believe this outcome proves our commitment to quality and innovation in the underwriting space, and we also expect that the announcement will be of particular interest to you, our partners. It's a mark not just of financial strength, but also professionalism, governance, our extensive underwriting and claims expertise and the quality of our people and the relationships we've formed. This should give you peace of mind about the long-term sustainability of our business, financially and operationally.
Kent Chaplin, Delta Insurance Group CEO, welcomes the performance assessment and says it reflects a competent team working closely together with a commitment to quality in services and structures as the company expands the market with innovative insurance solutions.
"AM Best confirms the work we're doing is underpinned by rigorous controls and sound financial management. While we're expanding where and how insurance adds value to commerce and society by identifying and underwriting new or emerging risks, we're simultaneously applying 'professionalism and rigour to the process, governance, and controls. With a winning team, we believe this combination is the pathway to continued success in all the territories we operate."
Once again, this was robust and rigorous a process as you can get, and the outcome – a PA-2 Excellent assessment two years running, just continues to prove the commitment to what we offer.
It also fuels our passion to create even more value for our customers through our operations, and this is a significant milestone as much for them as it is for us, as we look forward to our continued relationship with you in the future.